Why, oh, why am I so in love with nailheads? You could slap a nailhead on a pile of crap and I would shadowbox it and put it on my mantle.
I have to limit my nailheaded products to one per room. I really am actively NOT learning how to nailhead my own stuff because of what it would do to my house.
So nail-heads used to be associated with masculine leather furniture. But now nailheaded furniture has the kind of detail that can be used in the most feminine of rooms. The detail is what makes it so attractive.
Take this Marco Low Table from Bungalow5. I am in love with it. The table is made out of a lacquered grasscloth. I'm in love with you Marco.
Oh Lord. I'm literally drooling for the Marco collection in black. It's like a punk rock but not at all grungy version of a side table. It kind of reminds me of that that awesome vintage black studded belt that Carrie Bradshaw wore in the Sex & the City Movie. But so much better.
Oly Studio's Tyler Armchair. This chair can come in any fabric, a bunch of finishes. It's so simple, classic and clean, you can't go wrong.
Oly also makes this Benjamin Chair. Love it, especially in the worn dove leather.
West Elm makes this really nice bed. Surprisingly devoid of some character flaw. Nothing f-ed up about the legs or the shape and the natural upholstery is a nice touch.  It's clean looking and I like it!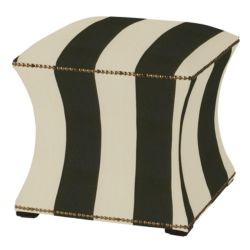 At Ballard Designs you can hit up their custom shop for a variety of different upholstered, and pretty inexpensive products. This Courbe Ottoman is just one of the many nailheaded ottomans you can find there. Plus, you can also send in your own fabric.
There is also no need to limit your nailheads to the furniture. You can have custom cornices made at The Shade Store in any color.
And— if all else fails and you cant find anything else to nailhead in your house- take your hammer to the walls! At last years Kips Bay Showhouse designer Sarah Story created a stir by actually having  a foyer's walls nailheaded.
I was in nailhead heaven! You can buy a nailheads at mjtrim.com aka Mecca for DIY-ers.